The MCW Starz organization offers competitive girls and boys elite AAU teams, camps, clinics, college recruit counseling and community service. #MCWFamily
---
MCW Starz 7th Grade is competing in Rose Classic Hoops League traveling to Virginia, New York, and Pennsylvania Winter 2017-18
Go Starz!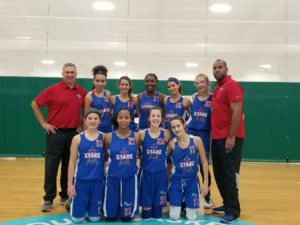 ---
MCW Starz  Gear Store Now Open until Nov 26th !

2017 AAU Season Reflection 
Happy and grateful for another successful MCW Starz AAU season. With Live period ending I am so thankful to all of our coaches, families and players. This was our 3rd AAU season as a program and we have successfully assisted in finding the best college/basketball fit for each 11th grade player and showcased all of our high school players. It starts with creating individual realistic college goals from reach to safety schools, then implanting a plan of action to reach that goal. Endless hours of the players and families committing to schools work, basketball, transportation and being all in. For our staff, endless hours of skill development, coaching, talks with the families, recruiting calls, tournament planning and assisting families through the entire recruiting process. Congrats to all our families and thank you for trusting us.

MCW Starz Alumni & Players Committed
Masey Zegarowski 2016′- D1 Bryant University
Sarah Messler 2016′- D2 Saint Anselm
Casey Evans 2016′- D2 Saint Michaels
Jess Lezon 2016′ – D1 Yale University
Colleen Corcoran 2016′- D2 Le Moyne College
Jenna Gagnon 2016′ – D3 Endicott College
Kayla Carter 2016′ -D3 Bridgewater State University
Erin Antosh 2017′ – D1 Committed to University of Delaware
Mayson Kimball 2017′ – D2 Committed to Merrimack College
Kelly Fogarty 2017′ – D1 Committed to University of Maine
Meaghan Gotham 2017′ – D2 Committed to Post University
Jen Peele 2017′ – D2 Committed to Saint Anselm College
Kaitlyn Petrocelli 2017′ – D2 Committed to Saint Anselm College
Kendall Currence 2018′ D1 Committed Northeastern University
Asia Dingle 2018′ – D1 Committed Kent State university
Marnelle Garraud 2018′ – D1 Committed Boston College
Ashley Ducharme 2018′ D1 Committed Brown University
Paris Wilkey 2018'D2 Committed  Franklin Pierce University
Valentina Pepic 2018′ Offered D1 Niagara University
Nicole Freddo 2018′ Offered D2 Post University
Caroline Ducharme 2021′  Offered D1 University of Maryland  & D1 University of Minnesota
A lot of college interest has come in after July live period. Great showing girls! #MCWFamily